This trip transpired from Darren's desperation to go overseas during his one week block leave (upon completing BMT). We thought long and hard about where we haven't been to - I've travelled quite a fair bit around SEA - and I suddenly thought of:
JOGJAKARTA / YOGYAKARTA.
Most people probably haven't heard of that place, but did you know that the Borobodur (a UNESCO World Heritage Site), located in Jogja, is the most visited tourist attraction in the whole of Indonesia? Not Bali.
Anyway, I know of the existence of this place because I've played Gamelan for six years, and Jogja is one of the centres of Gamelan (we learnt drumming styles from Jogja and Solo). Decided to pay this place a visit, and grabbed Brenda + Rebecca along.
It was right after my MND EDGE Scholarship Presentation Ceremony... and I zoomed straight to the airport.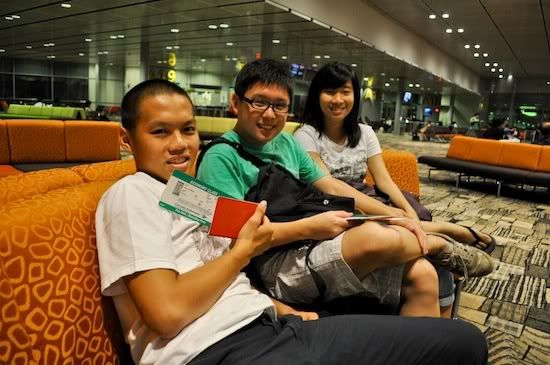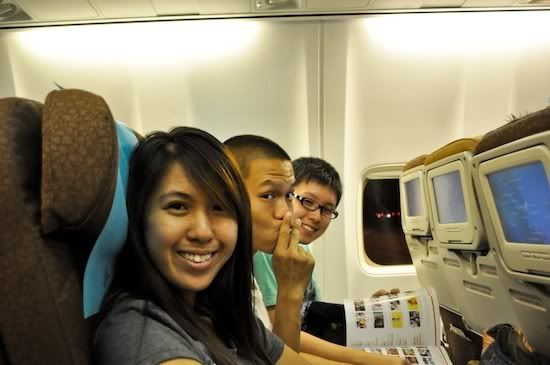 Flying by
Garuda Indonesia
. SIN > CGK (
Soekarno-Hatta International Airport, Jakarta
).
Transit time was about 6 hours and we couldn't check-in sadly, so we got a meal at A&W.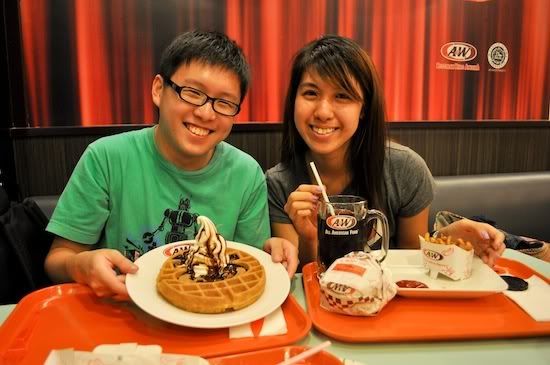 Nostalgic waffles... Used to eat this at Kovan, back when Heartland Mall was still the Oriental Mall.
After lazing around pathetically at the airport (we couldn't check into the transit area :( really wish we were in SG airport instead), we finally got on our morning flight to Jogja.
Hello SKYTRAX World's Most Improved Airline for 2010! Service was pretty top-notch, nothing like the budget-like standard that is rumoured online...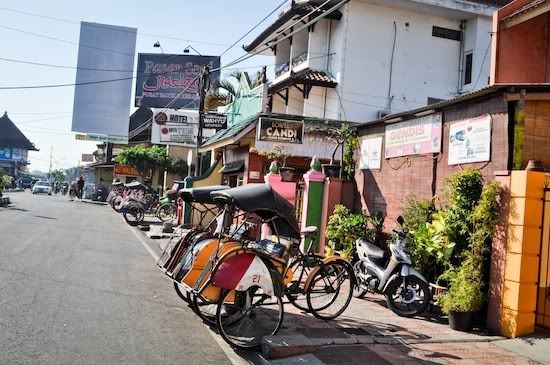 Exactly what I expected to see after travelling to Indonesia so many times.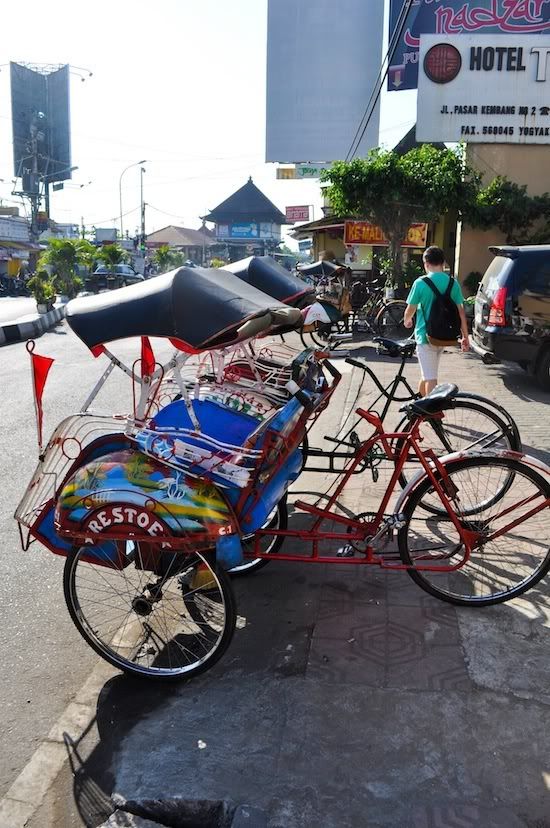 It was incredibly early, like 6AM-ish, so we walked around our hotel area to try and get breakfast first.
Susu Gembira
- a horrifyingly sweet and sinful drink. Coconut milk, soda and syrup!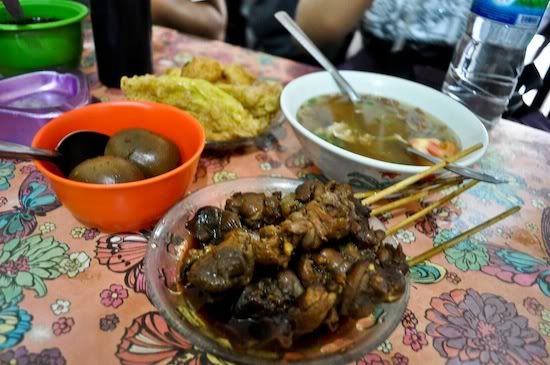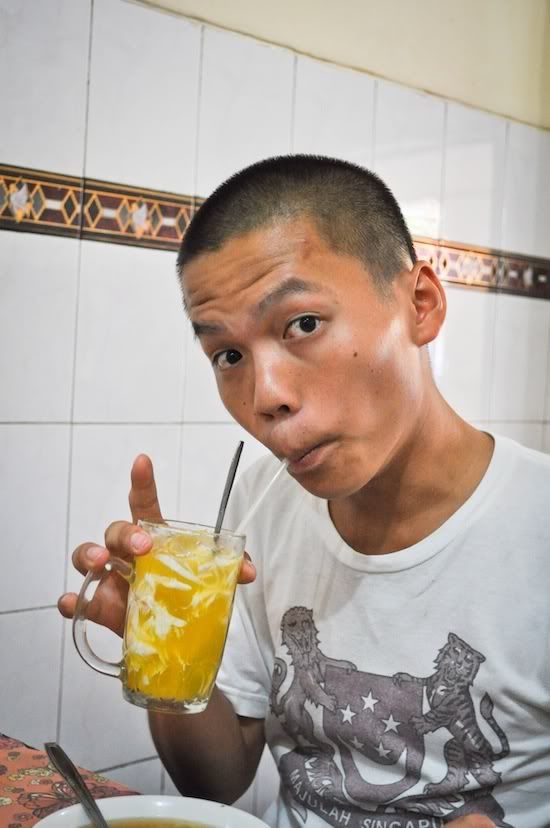 You're probably thinking what I'm thinking - is this food safe? They actually kind of look like they've been left out for quite some time.
Jogja also has this thing where they leave food exposed on the table. Take 1 and they'll charge you for it. Probably won't be too expensive, so if you really dare to put it into your tummy, I guess just go ahead!
And then we walked on to:
Malioboro Street
!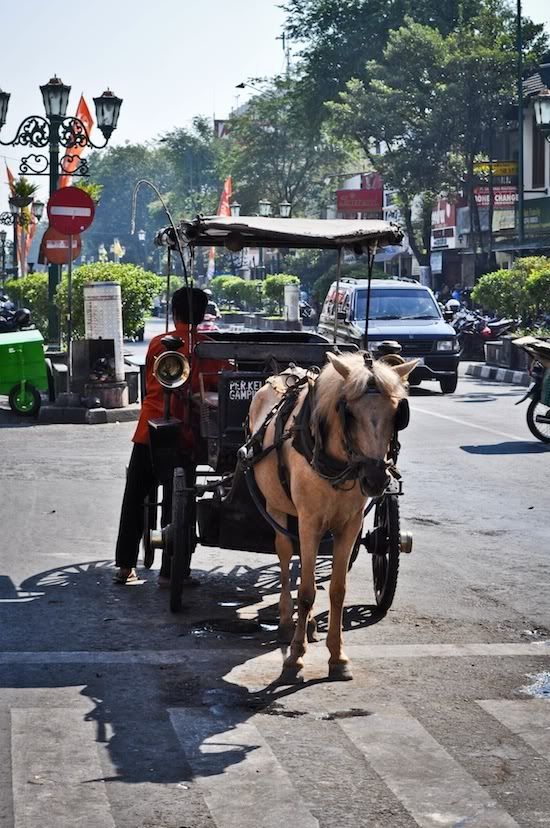 The shopping district.
Went into a random huge mall to do some shopping.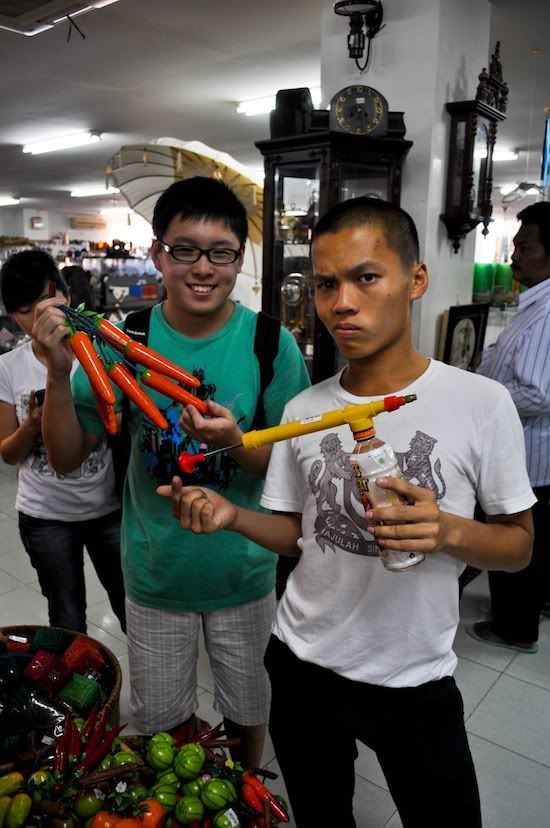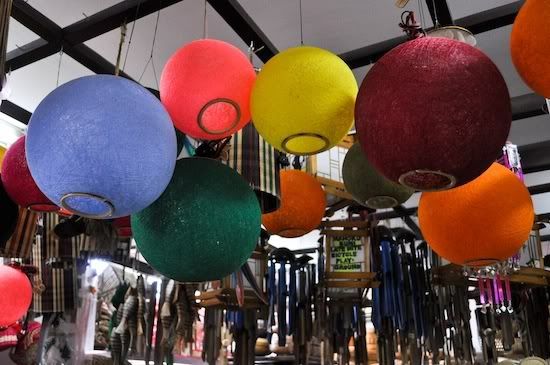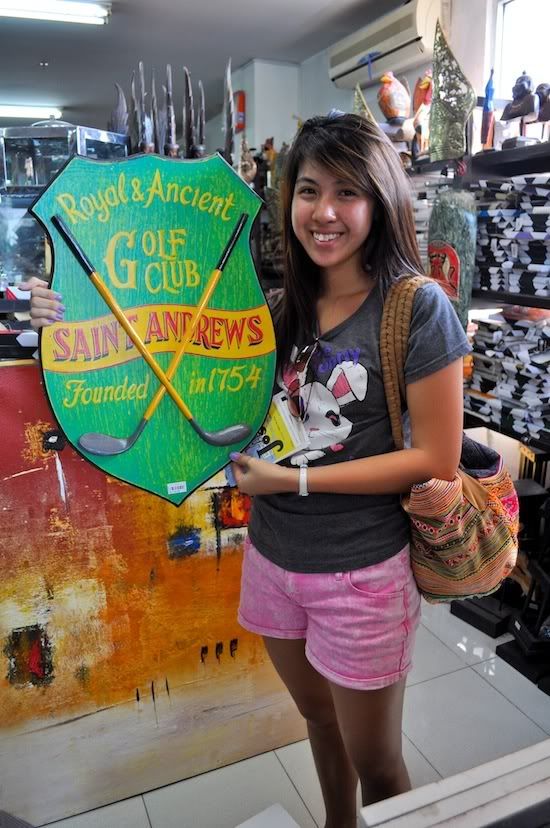 Darren expended so much time just searching for some of these vintage looking thingums.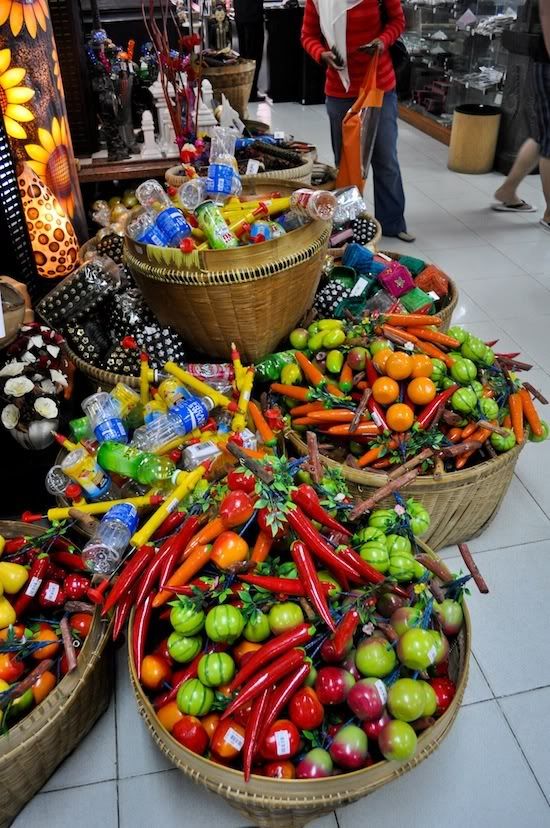 Water pumps made from recyclable materials!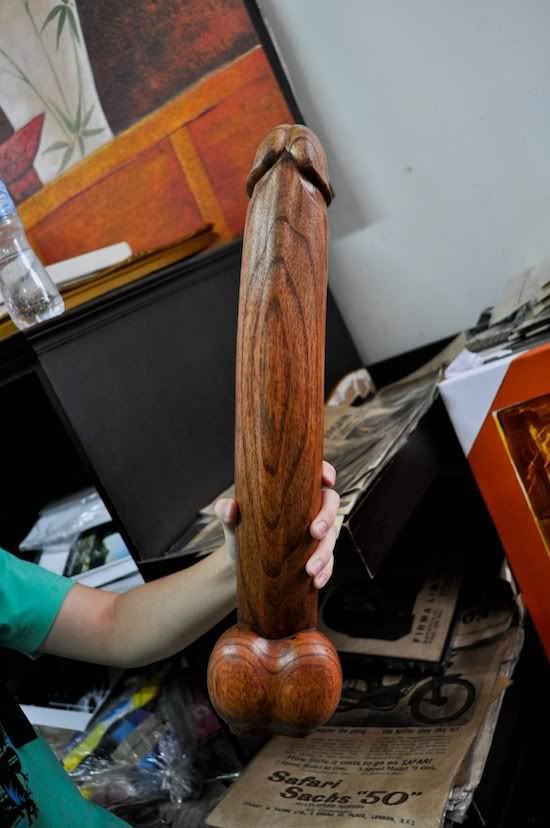 HEHE.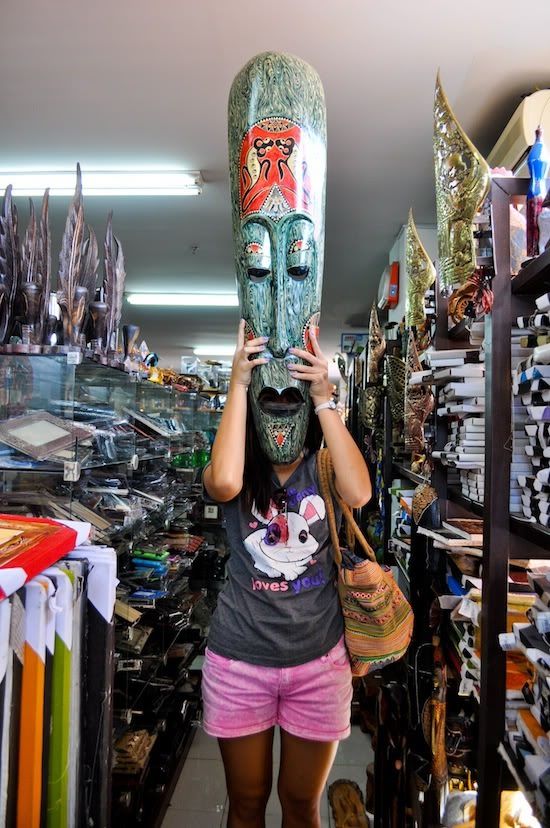 HOOGA-SHAGGA.
REMEMBER how Singapore used to have those food courts with the arcades right next to them? (the Oriental at Kovan used to have one). WELL, we went to one and started playing like mad!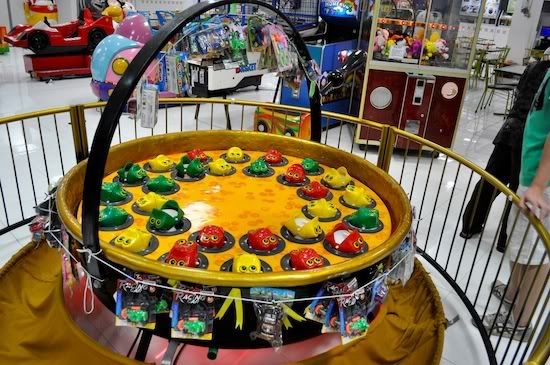 This Jump-Rope thing was so awesome, we won so many tickets: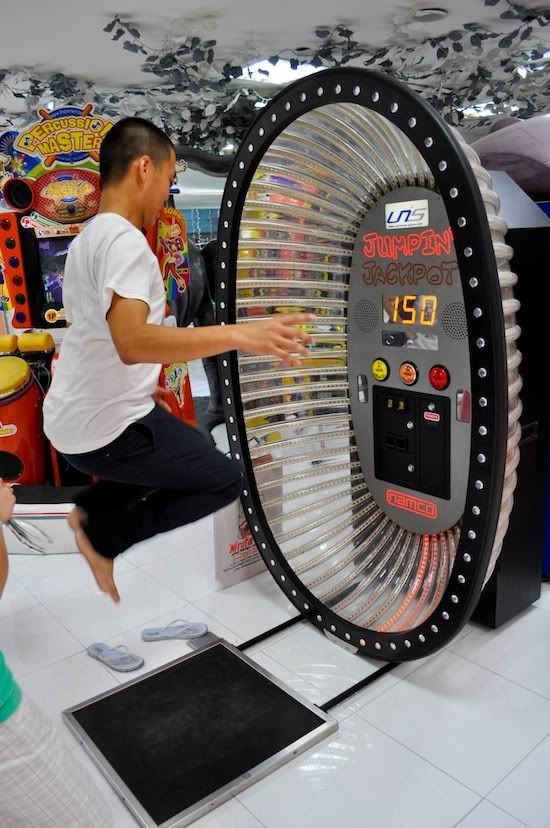 Exchanged those tickets for some sweets and Indonesia's finest, TEH BOTOL (basically a kind of tea that is in a glass bottle, really yummy).
We decided to head back to our hostel for check-in, and on the way, grab some lunch.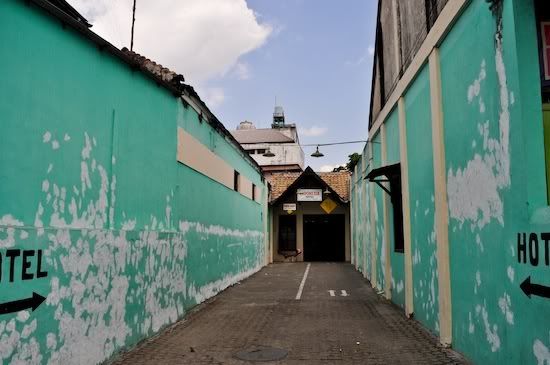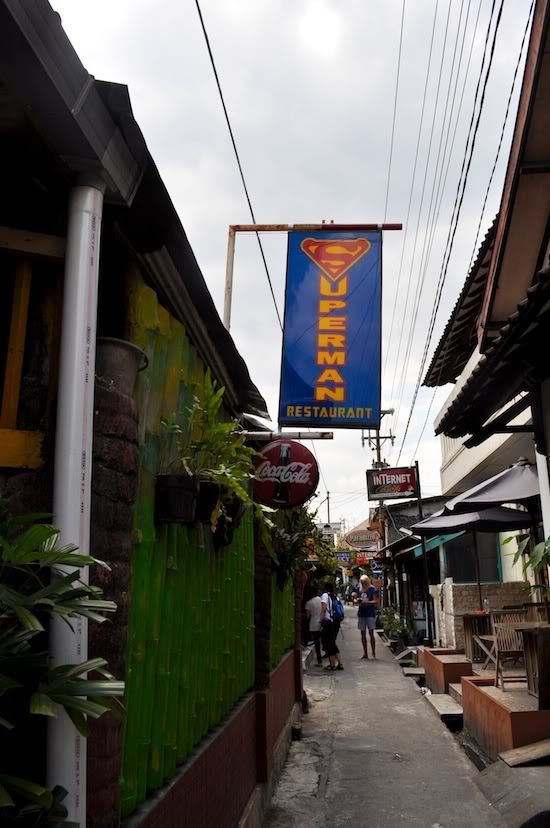 Found a great eating place.
... and Guess What? The
YOGYAKARTA GAMELAN FESTIVAL
is on!!! Right when we are in the city for a holiday. Fantastic timing.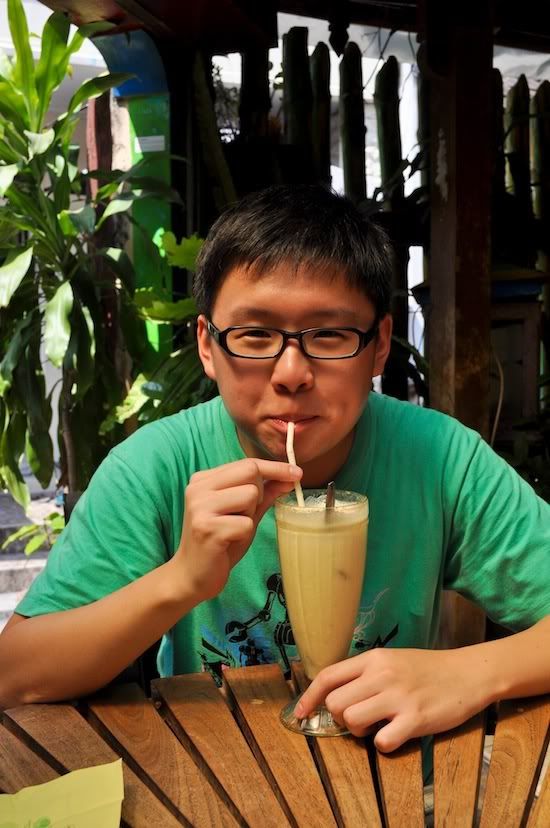 Does this photo look familiar to you?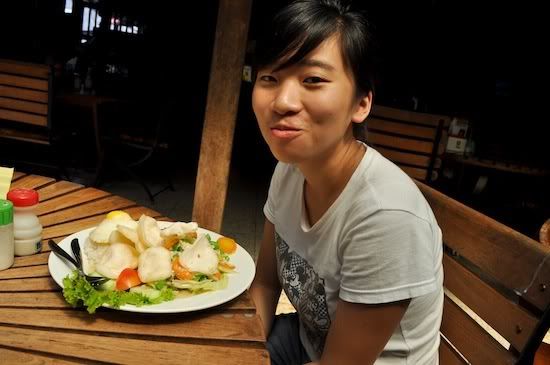 Local Indonesian cuisine - love the spices they use.
It was a pretty good meal, cheap and yummy, which is exactly what I love about Southeast Asian travel.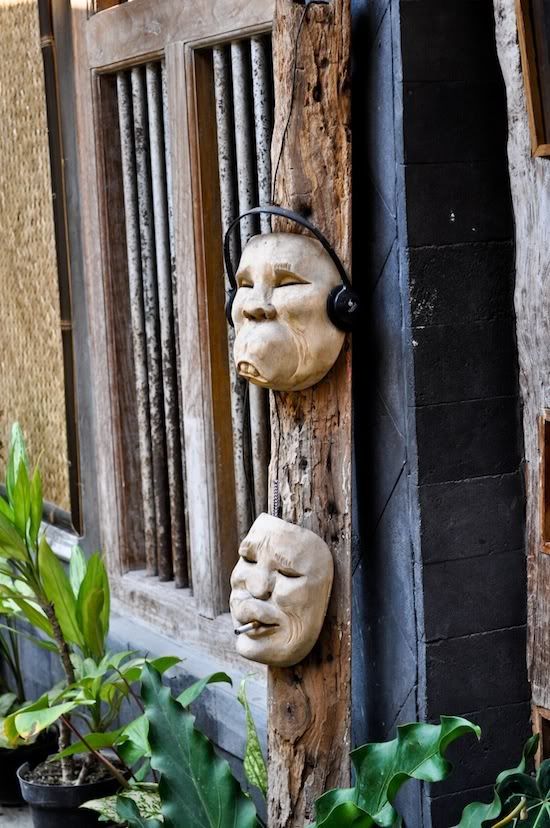 We went back to our hostel, took a 2-hour nap, and then headed out to rent BIKES to get around the city!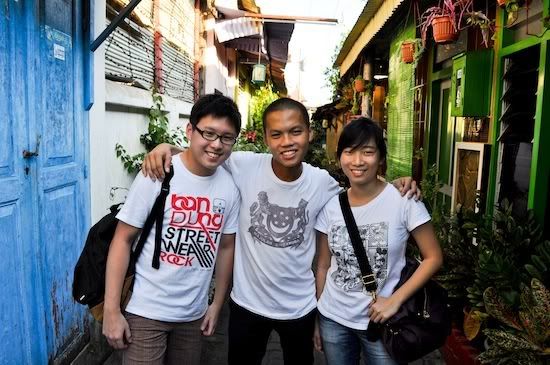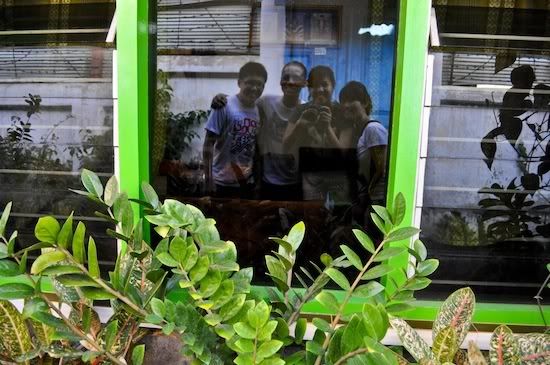 The only reason I have more camwhore shots in this than I have in Cebu is because Becca is around.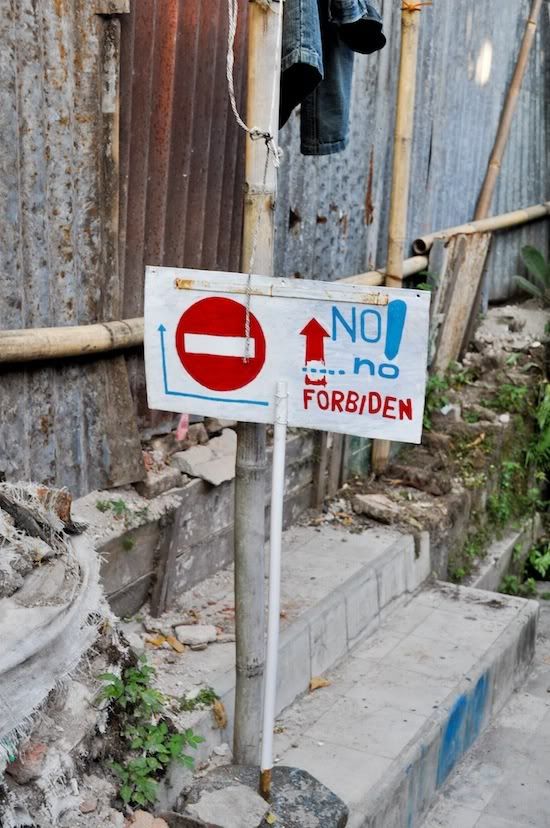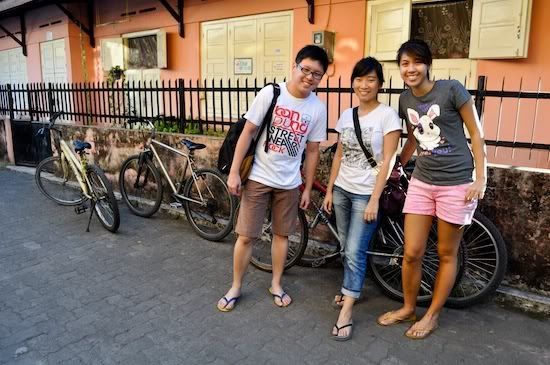 Us with our bikes, with Darren navigating the way. Also, we had prepaid cards with data (Indonesia is so damn blackberry-friendly).
It was VERY dangerous though, so I wouldn't suggest biking.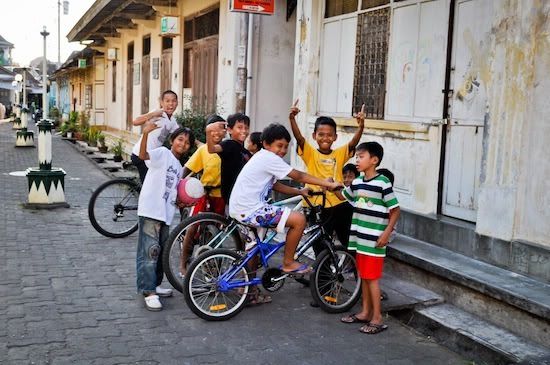 Little kids who were very intrigued by us and very happy to know that we're Singaporeans! I love seeing children :)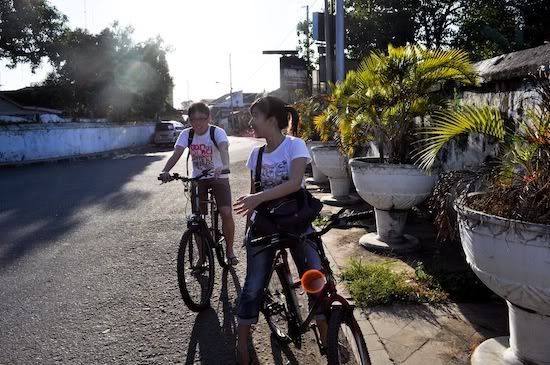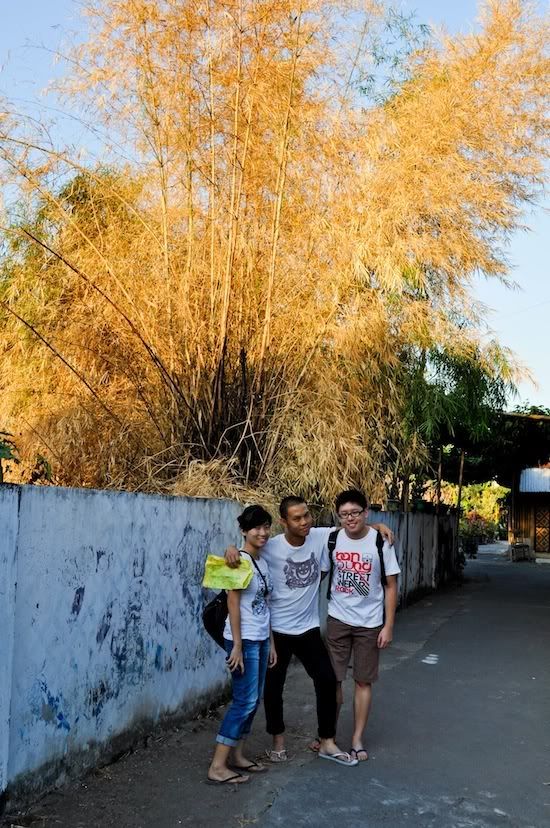 We tried to go to the Bird Market, but it was closed. In the process, we also got tricked into parking our bikes some place where we were charged... but a small fee thankfully.
We ended up at the
Water Castle
, which... sucked.
We couldn't enter the place, plus it didn't look very glorious for such an old building.
A little disappointed, we biked all the way to
Taman Budaya
, the site of the Yogyakarta Gamelan Festival 2011.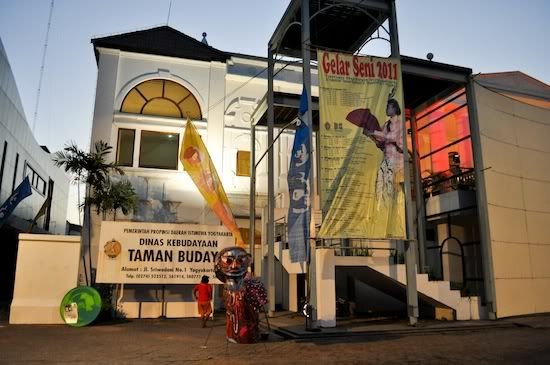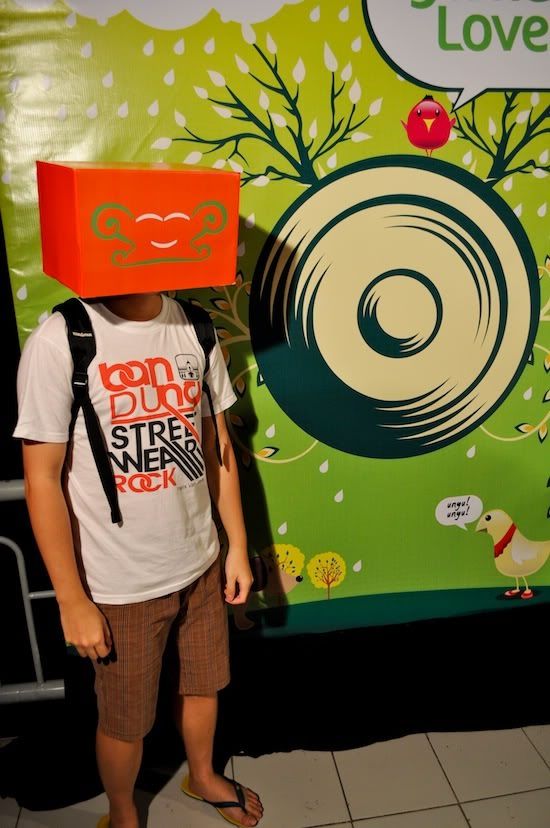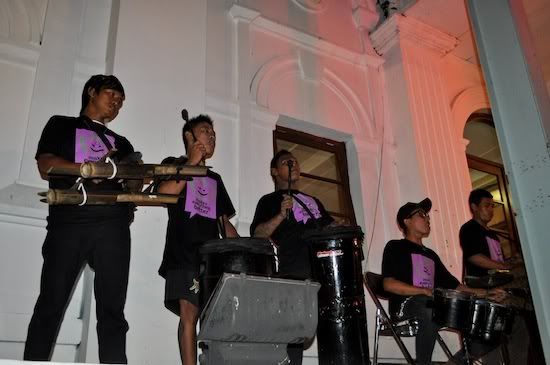 Loved the designs (bought SO MANY badges, tees etc), and really enjoyed the performances. They had an international troupe, and I really wanted to watch the Japanese one but they were performing on a date when I won't be around.
... and that concludes a fun but very exhausting Day 1, and we headed back to our
1001 Malam Hostel
, one of the best-rated hostels on HostelWorld.
DAY 2.
Woke up early, got a driver through the hostel (a young, hip, female driver!) and got on our way to Borobudur and Prambanan.
But first, our complimentary breakfast: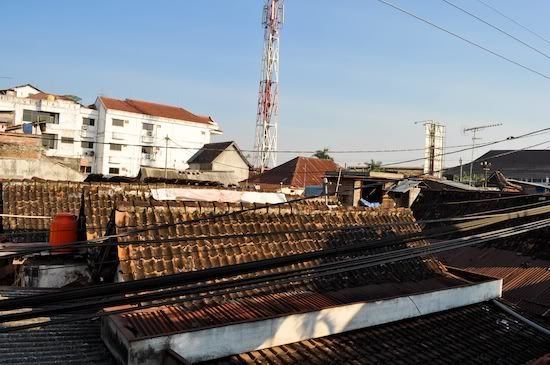 View from rooftop.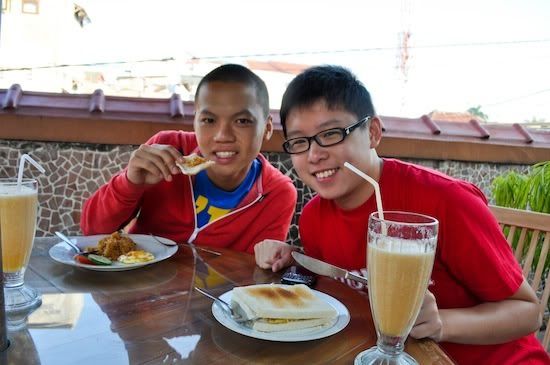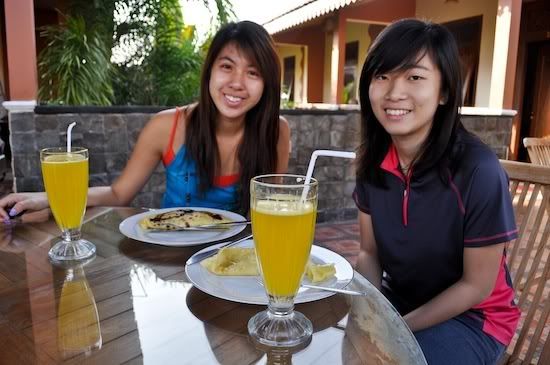 Our driver was kind of teensy and cool, and she let us stop at a lot of places to take some really beautiful shots!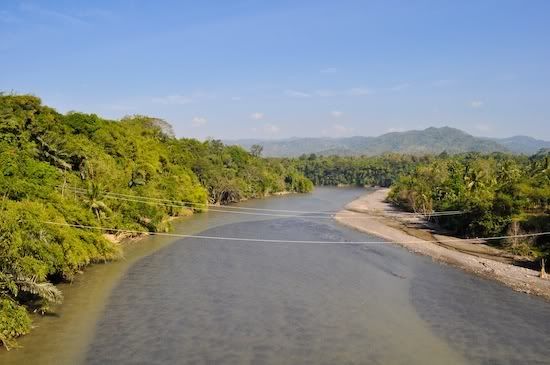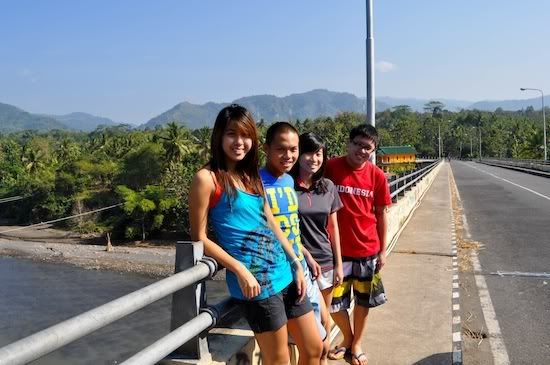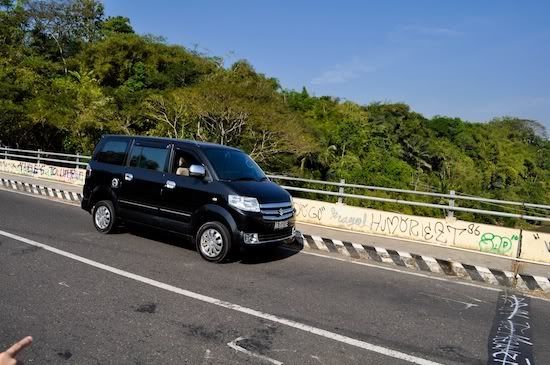 Our ride! Comfy ttm!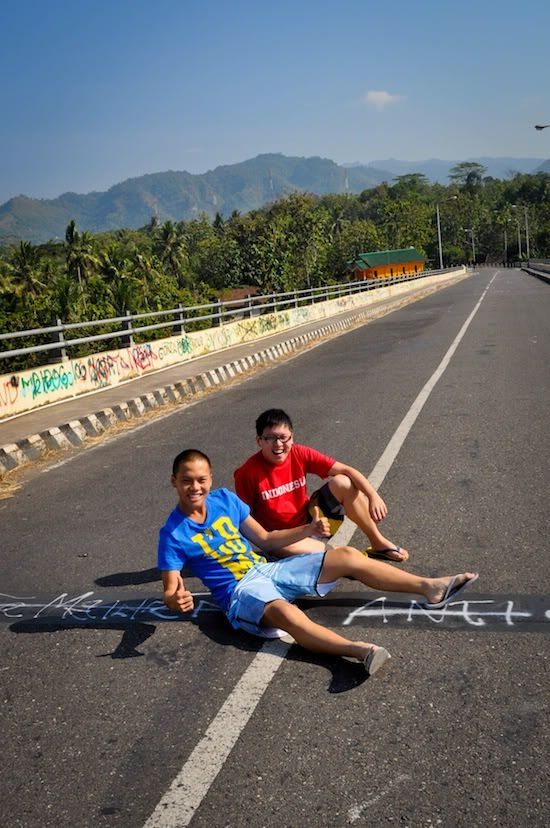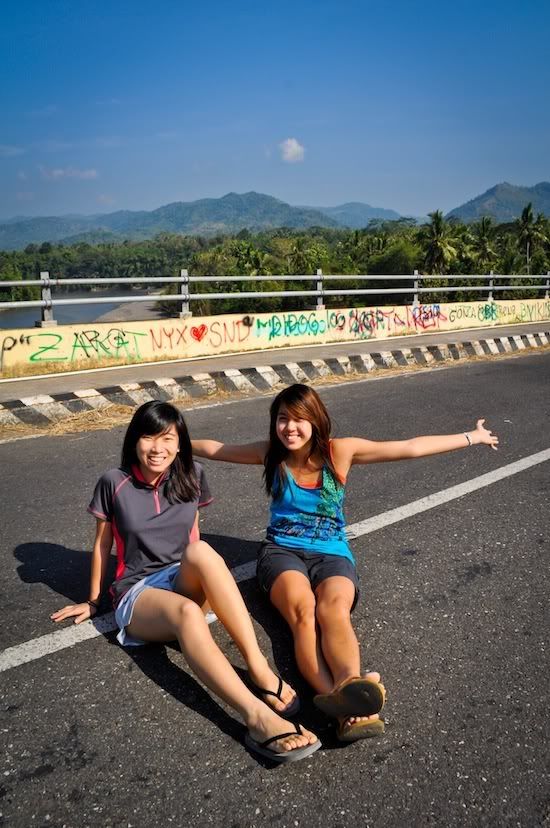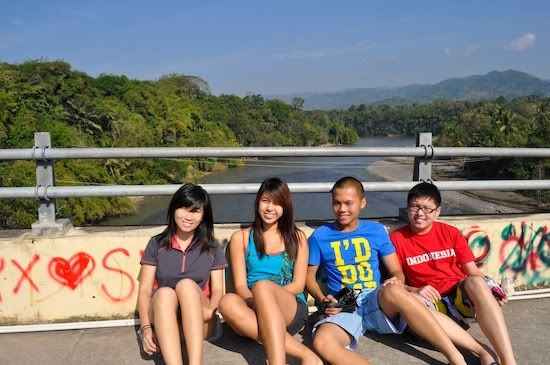 After an incredibly long, 2-3 hour ride, we finally made it to the
BOROBUDUR!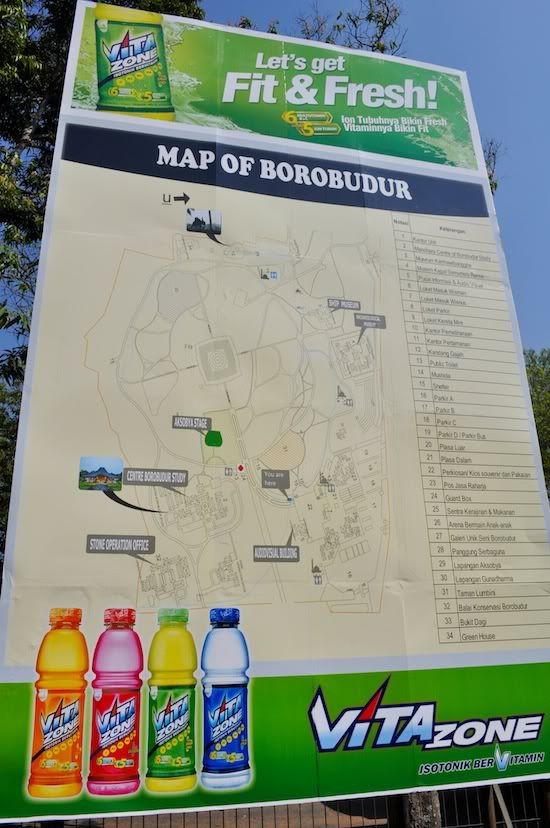 We had to don on sarongs and all, and there's an international tourist fee.
Being lazy, we decided to board the little tram.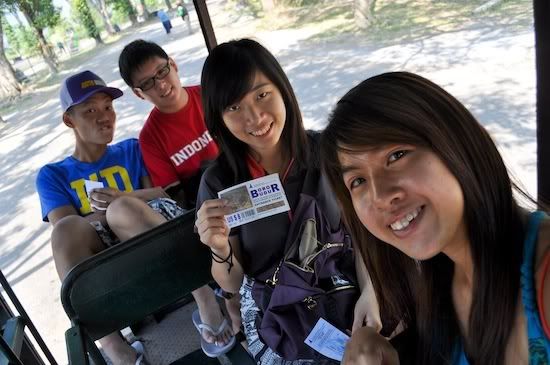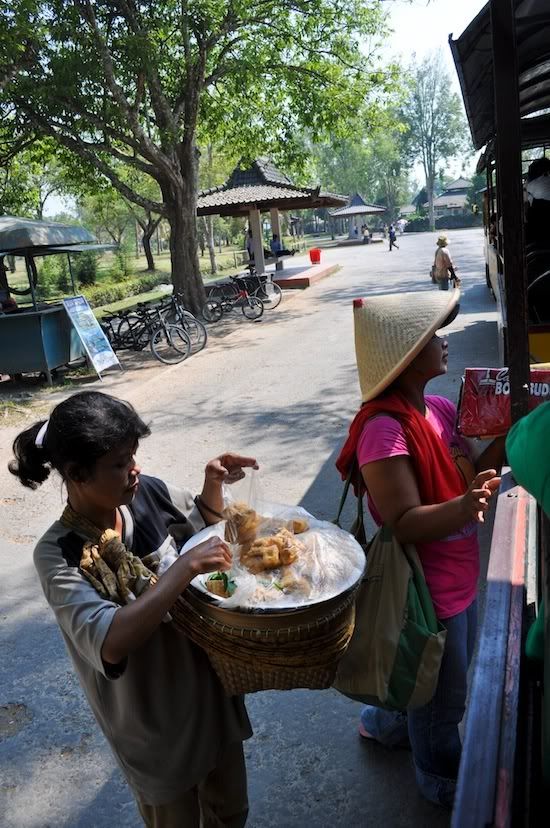 Locals were busy selling us some tow-kee-like thing, which I bought and LOVED. So did Brenda, so we were just nom-ing that and buying it whenever one of them passed by.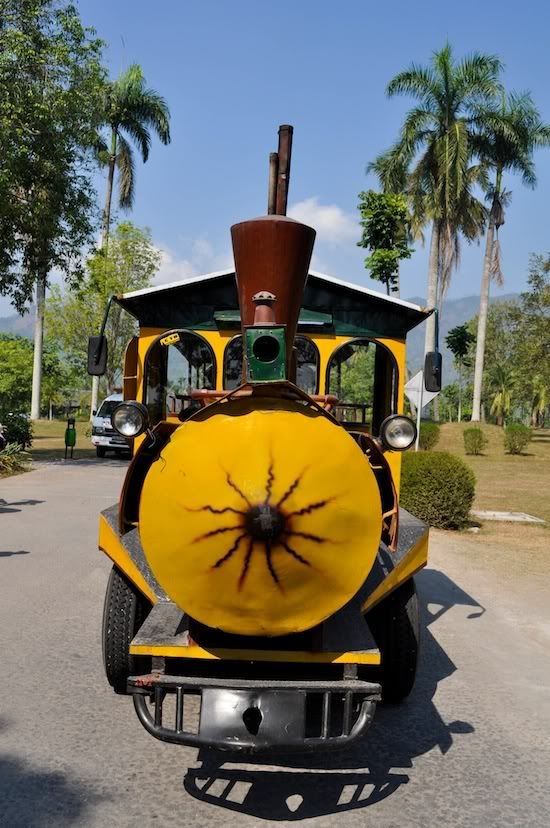 Choochoo!
HELLO, BOROBUDUR!
UNESCO World Heritage Site!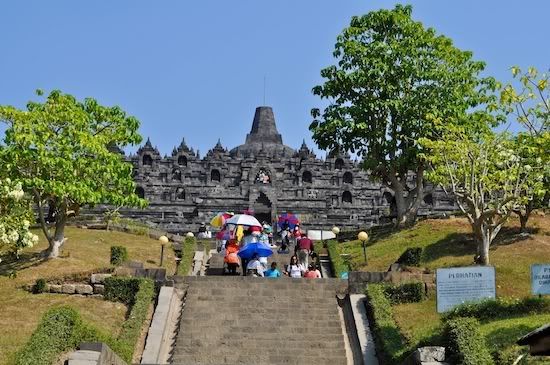 It's a long climb up.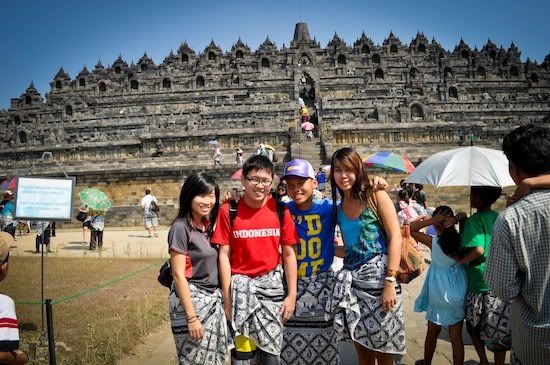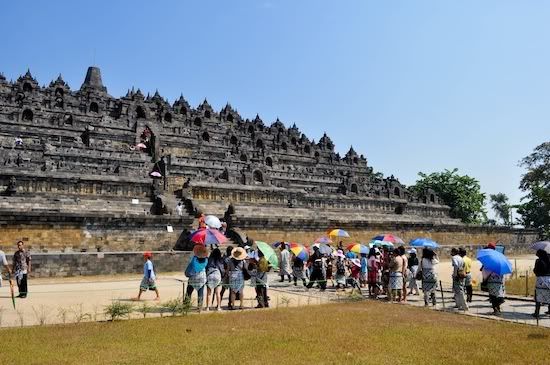 Majestic!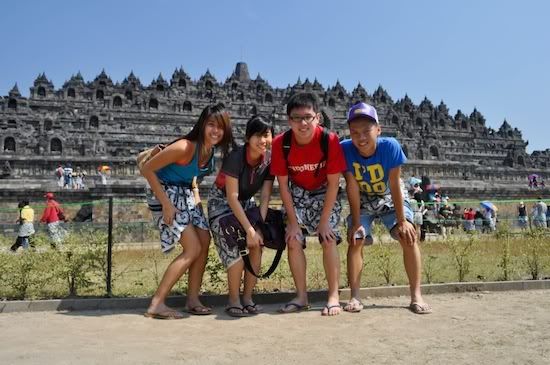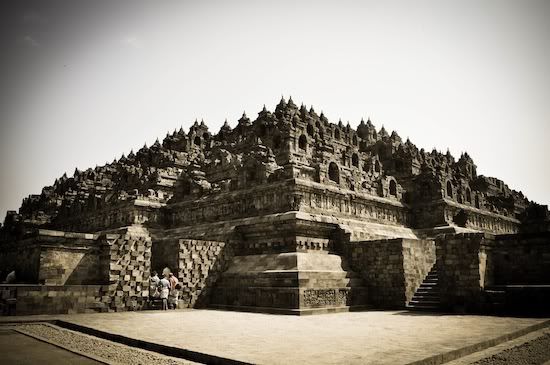 And this site was featured in the recent season of the Amazing Race.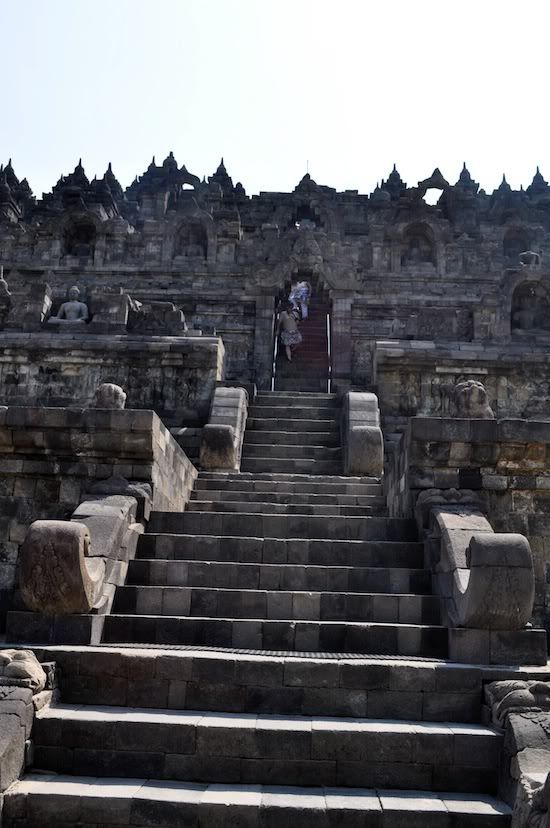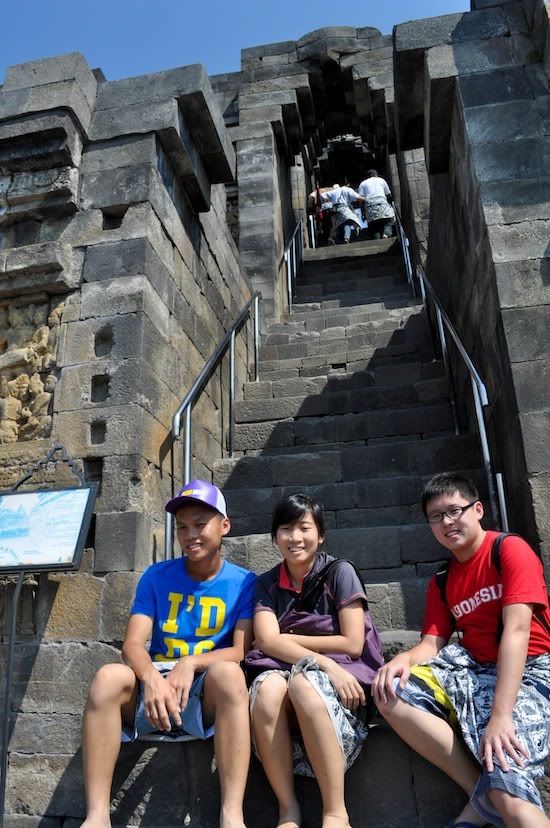 It's amazing how they managed to build this entire structure, carved with such intricate details!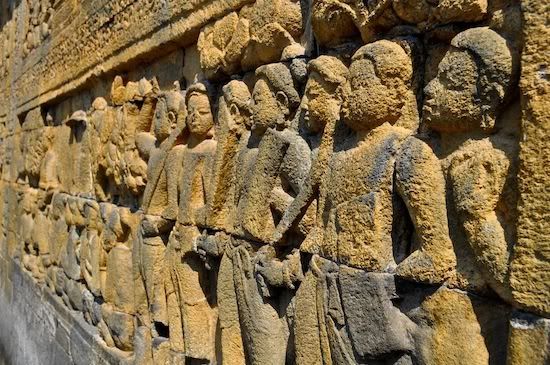 It reminded me of what I saw in Beijing, at the Summer Palace.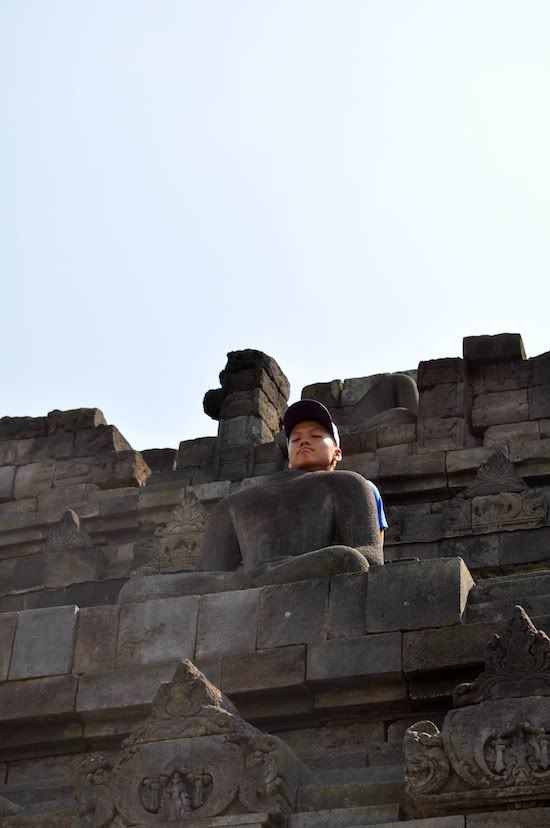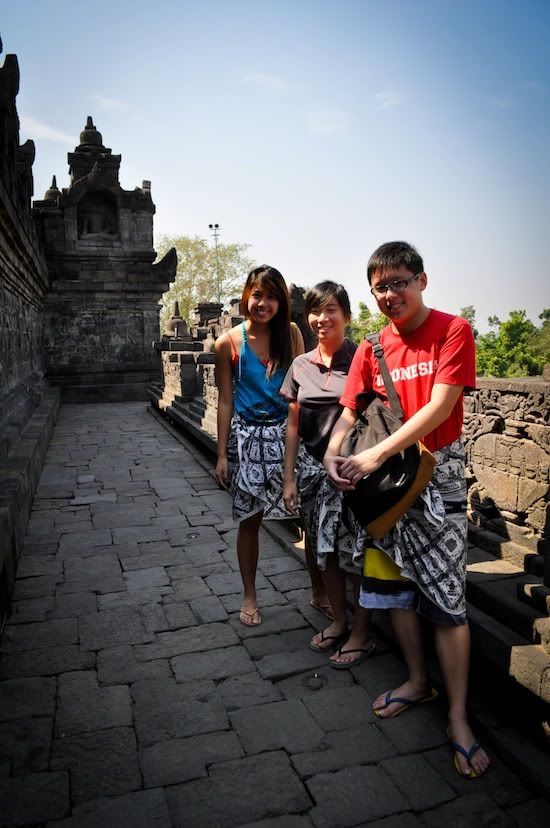 And of course, the little 'bells' at the peak, each containing a buddha within them.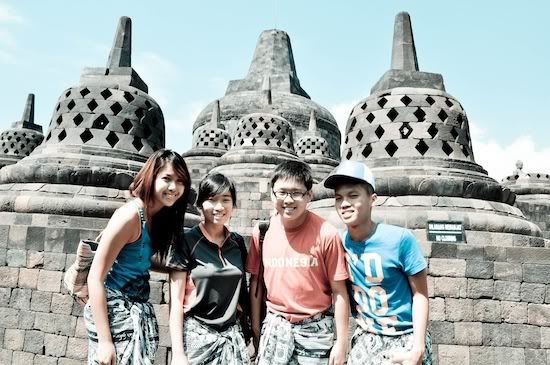 Hehe and the awesome polaroid was taken by a photographer:
If you're on a trip, always grab someone with a DSLR with him to take a photo for you.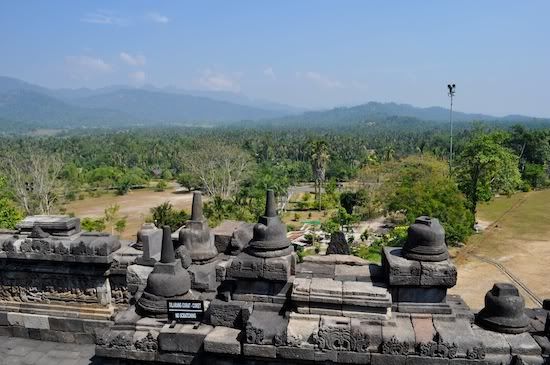 It's exhausting just climbing and walking around the entire temple.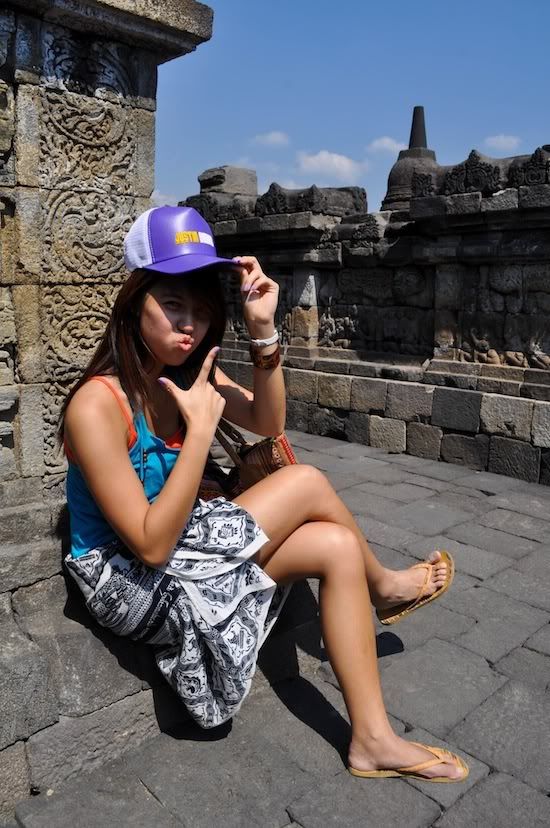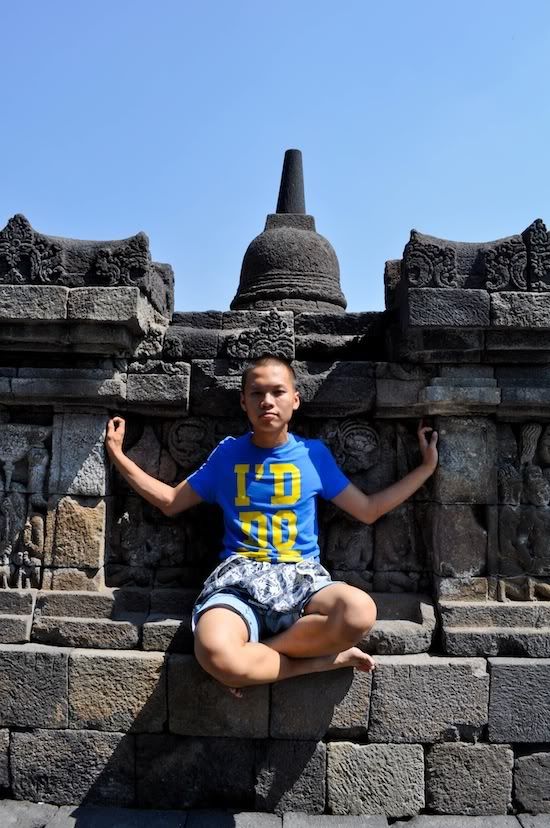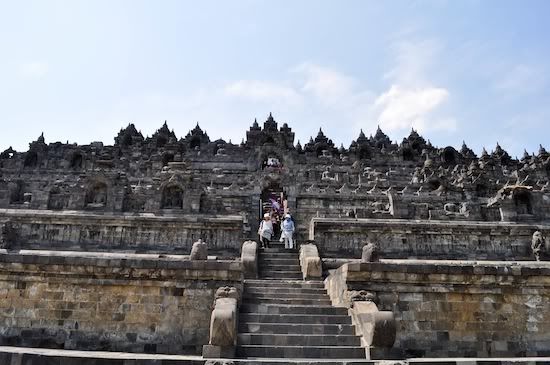 Had lunch right outside the temple: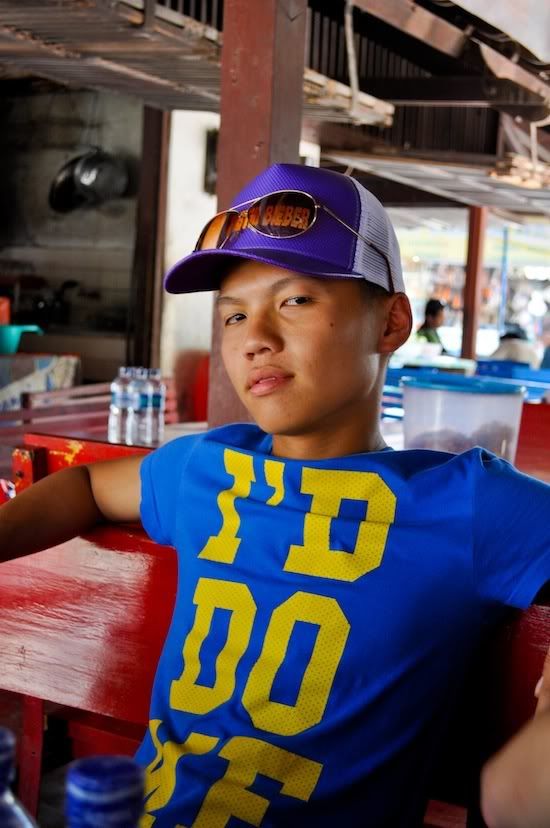 The very cool Darreh.
Even though this is Instant Noodles... it's INDO-MEE, and the Indonesians can cook it to perfection! Loved every meal of Indomee we had, even though it was all disgustingly unhealthy and all.
We then continued on our long journey to...
the
PRAMBANAN TEMPLE.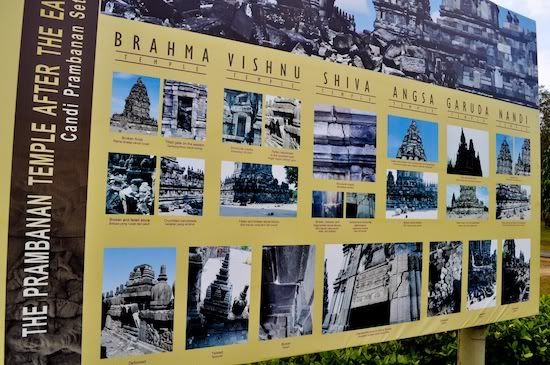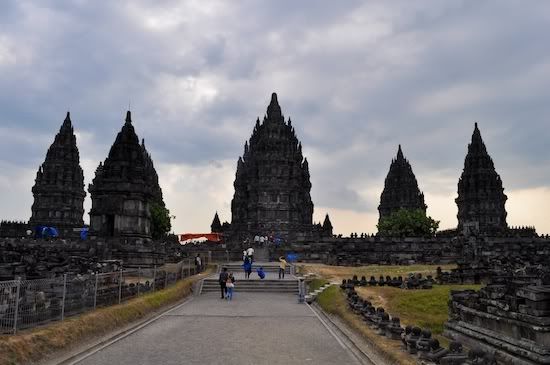 Another World Heritage Site.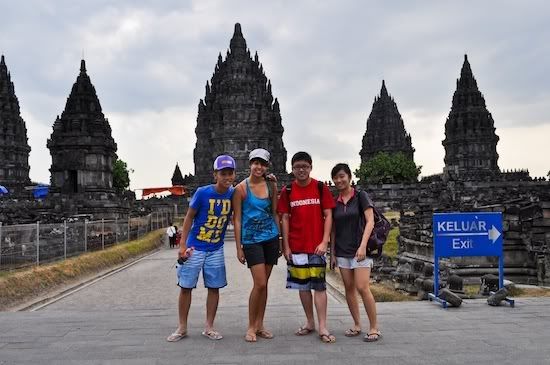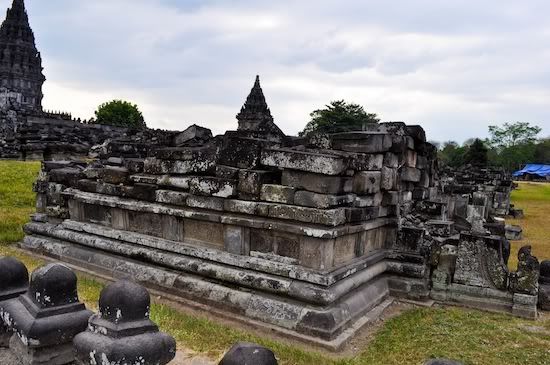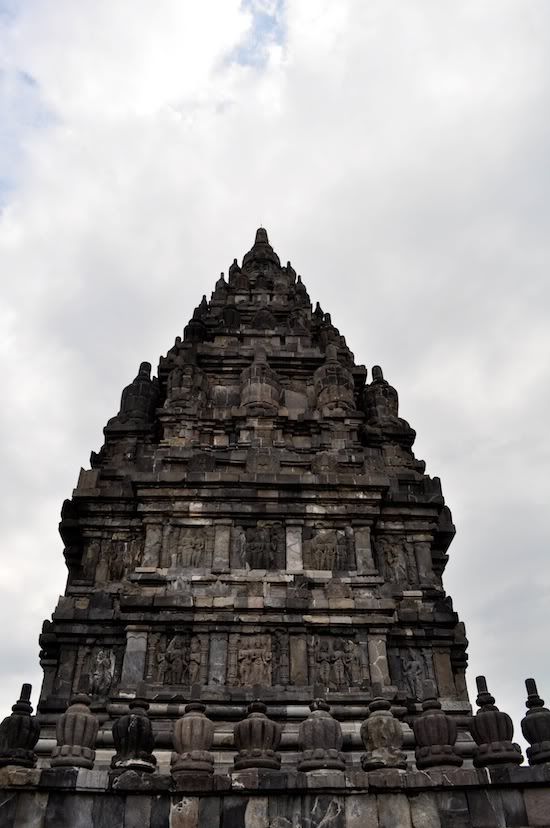 If only Singapore had such a rich history.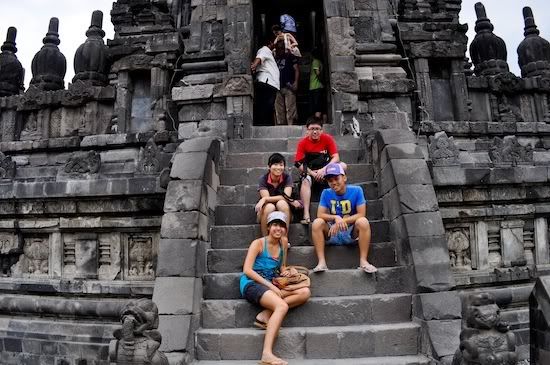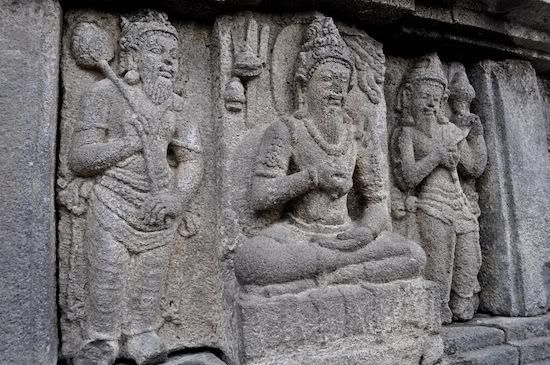 It's amazing how these carved stone images can still be seen today!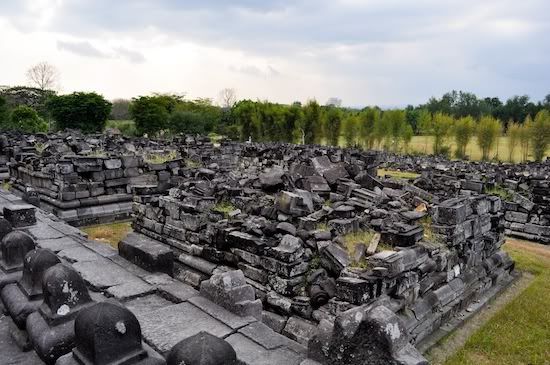 These were partially destroyed in an earthquake.
Took with some random tourists.
Planking extraordinaires.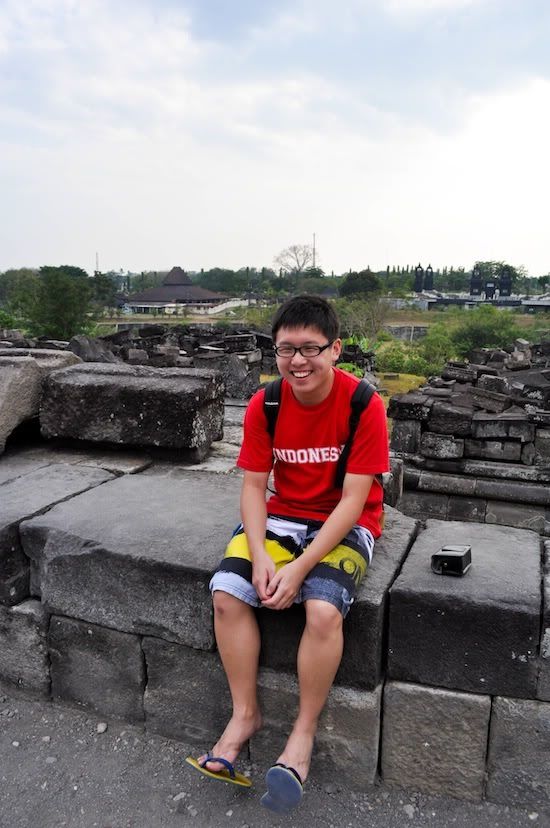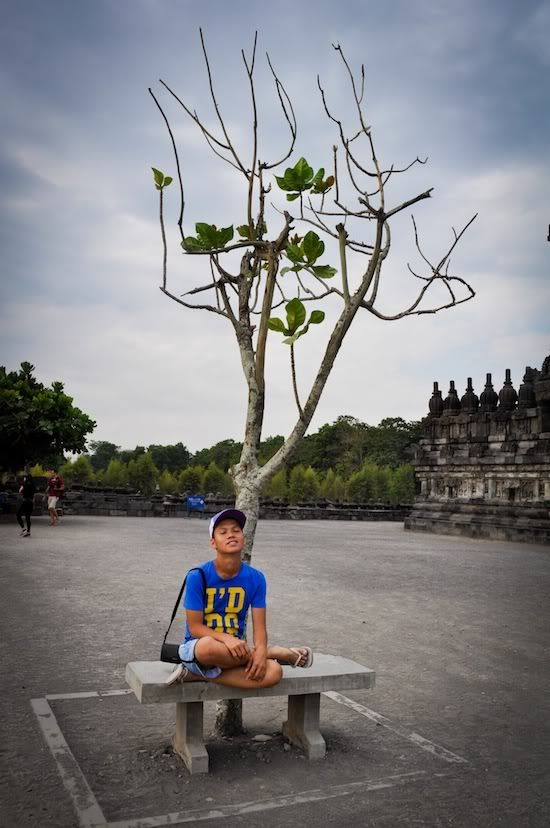 Last view of Prambanan!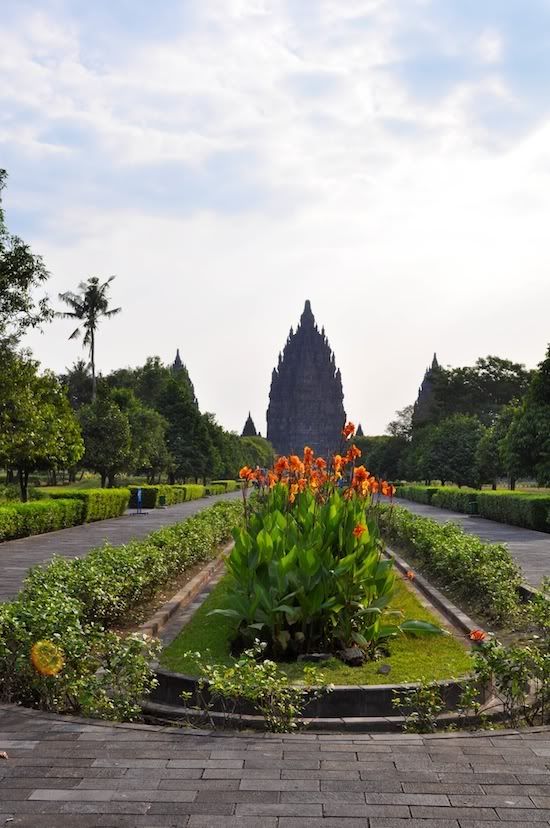 We then boarded the vehicle and headed straight to
PARANGTRITIS BEACH
, a black-sand beach at the extreme south of Jogjakarta, which was a ride away again.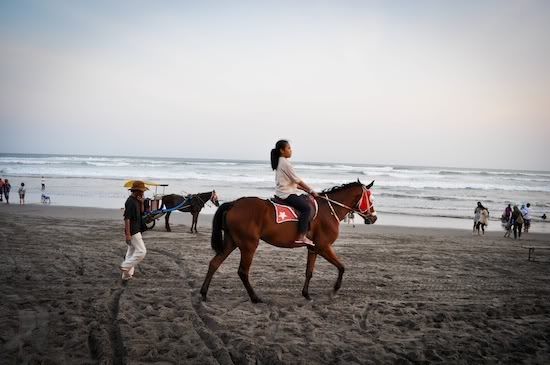 And we watched the sunset :D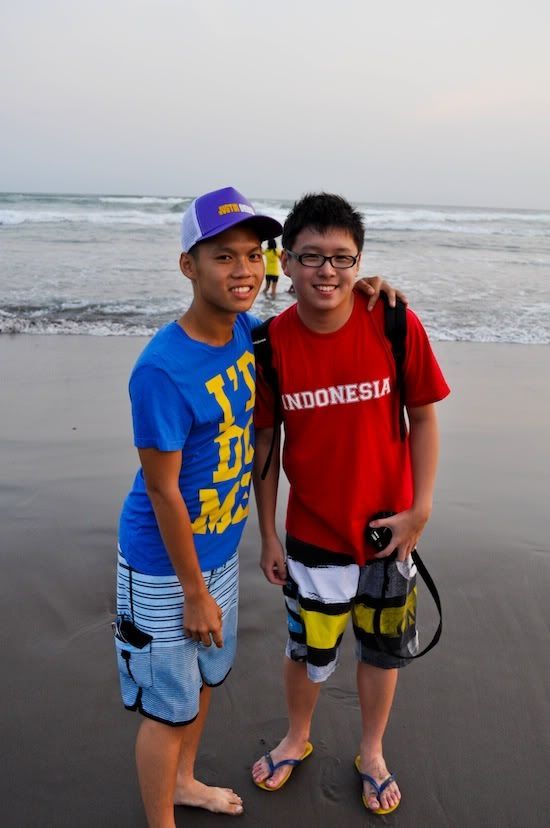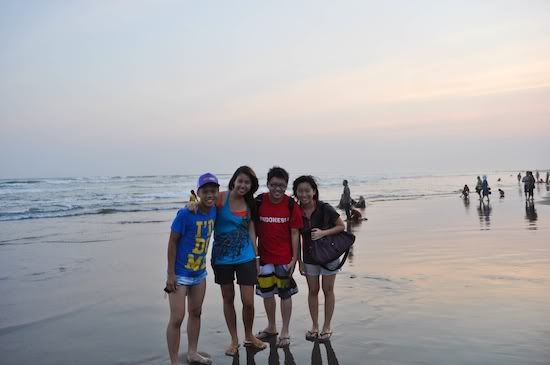 Black sand beach! Better than the one in Bali.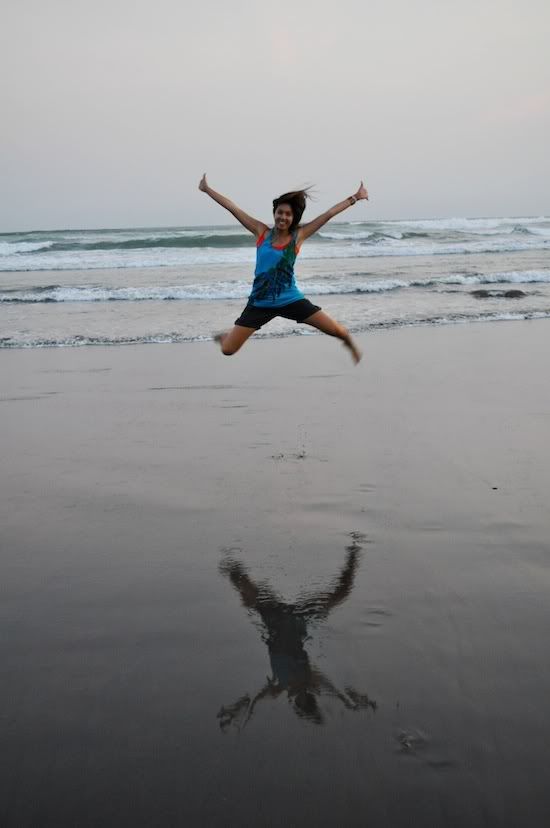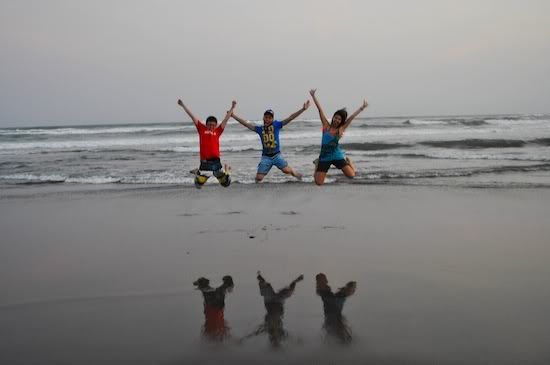 Yes, another jumpshot reminiscent of the one we took in Phi Phi Islands!
We then went straight back to Malioboro (a 2-hour drive away), where we stopped to eat at
OYOT GODHONG.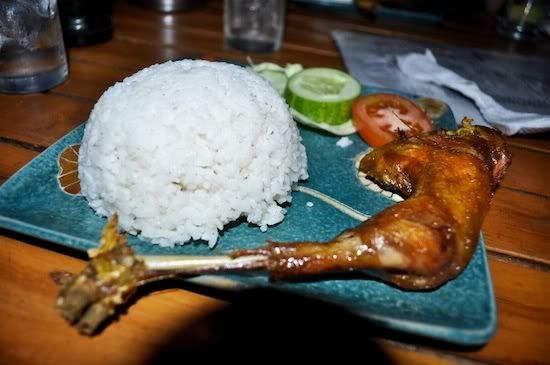 Kampong Chicken is the best-tasting chicken.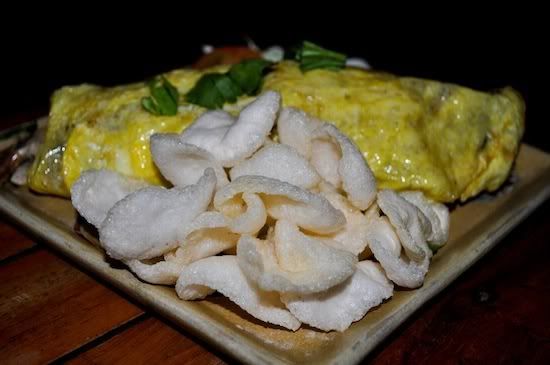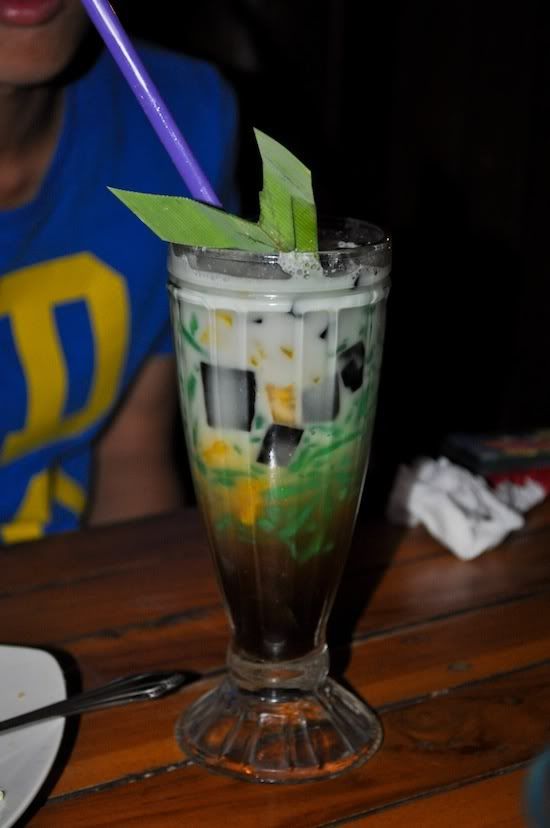 CHENDOL. YUM.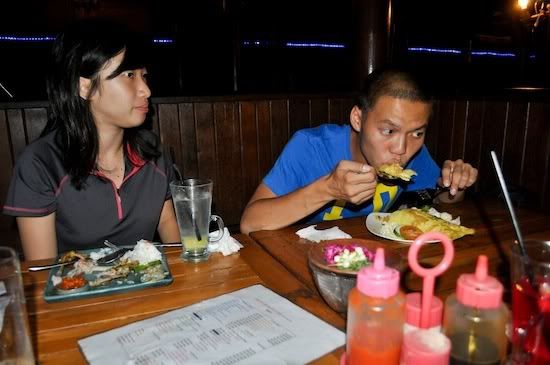 It was all incredibly cheap, added up to about S$3 per person. Yummy, that's what I love about Indonesia!
And that concludes Day 2!
...
to be continued (Part II)
.